ReDefine 8/29 Four Star Download Review


* * * *


Ian Hunter's "How's Your House" comes in video form; grim newsreels of the devastation that show why projects like this are still necessary...
David Fricke
Rolling Stone Magazine
NOMRF's ReDefine 8/29 Download
NEW 2010 Reload Tracks!

Get All 11 Songs For Your $8.29 Donation

Through these amazing songs, the New Orleans Musicians Relief Fund, Inc. can continue its efforts. We're about to kick off another free concert series to keep musicians in gigs and share the music in a family friendly atmosphere and instrument donations are still coming in. The charity is honored to have local and international legends offer the following for the 5 year commemoration of Hurricane Katrina, including the haunting new track "Begin Again" by Holsapple - Stamey.
Begin Again - Holsapple Stamey
Brand New Old House - Beatin Path
Hold Out A Hand - Edwin McCain and Maia Sharp
How's Your House - Ian Hunter
Kid - Barry Cowsill
Long Black Line - Spencer Bohren
Poor Man's Paradise - Johnny Sansone
Sixth Ward Soul - James Andrews
So. Central Rain from Dublin - REM
The Village - Chicago Farmer
Wrong Hand - Backyard Tire Fire
NOMRF respects your privacy and will not sell or distribute your contact information. Verisign is a secure merchant checkout. Upon purchase, you will receive an automated email with a link to all the track. We now also accept PayPal on the checkout platform, and each PayPal download link will be emailed within 24 hours of purchase. Thank you to the artists and their management teams for allowing us to benefit from these wonderful tracks.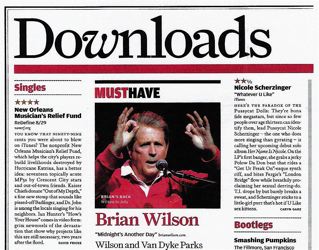 ---
When the Saints Go Marching Out
From The Economist: "The New Orleans Musicians' Relief Fund album will be called "ReDefine 8/29", referring to the day New Orleans was evacuated. Jeff Beninato, the musician who founded NOMRF, says that the title could not refer directly to the hurricane. 'If they hear Katrina, they'll think, 'I don't want to hear that; that's old news.' "But spare a thought for that most iconic of New Orleans institutions, the funeral with music. A brass band playing sombre dirges leads the mourners and the body tearfully through the streets, from church to cemetery. The body goes into the ground, and the tone changes: the music becomes upbeat, and the mourners turn to revellers, celebrating the life of the departed. Neither Dixieland nor New Orleans is yet a corpse, of course, but nowhere else is quite as adept at wringing joy from tragedy."
The New York Times interviewed NOMRF for a Katrina musician article, Entertainment Weekly has also covered the Fund with an REM Video for NOMRF and Mercy Corps.