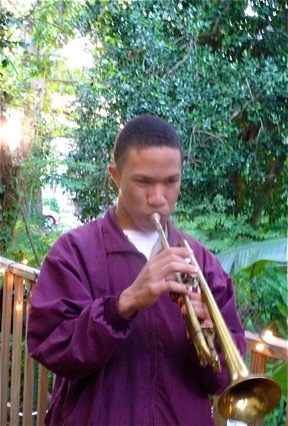 The New Orleans Musicians Relief, a grass roots charity founded by displaced New Orleans musicians after Katrina provided grants, instruments and gigs for New Orleans musicians.
Our nonprofit is grateful to those who have contributed instruments to musicians, professional and beginners, including trumpets (at left), violins, electric guitars, antique upright bass, grand pianos, housing, cars and guitars.
It's been years of blessings. nomRf was able to present a 100 year old Czech bass to a student at NOCCA Thelonious Monk Institute Jazz program.
In one of our charity's most poignant memories since kicking the whole thing off in 2005, nomRf brought the Great Southwest Holiday Toy Sleigh Ride to musicians' children. The airline gave the New Orleans Musicians RELIEF Fund space to bring 200 pounds of toys from Chicago to New Orleans post-Katrina, and we also mailed toys to displaced musicians' children.
So many toys came in, former WWOZ DJ and New Orleans music legend the late, great New Orleans musician Bob French announced that families could pull up out front of the studio while we distributed everything from skateboards to drum kits.
Thank you for keeping New Orleans music in your heart, and for all the instruments that came in for over a decade. Our founder is now retired and working on his health, but we encourage donations to local charity Roots of Music to keep the music and culture of New Orleans alive. Instruments can also be donated to the Habitat For Humanity Musician's Village.